Most Expensive Christmas Market Destination?
A survey from French travel website Allovoyages.fr has compared 10 famous Christmas Market destinations in Europe based on the cost of their lodging.
The survey specifically looked at what travellers will have to pay to stay in a centrally located 3-star hotel during the first three weekends of December.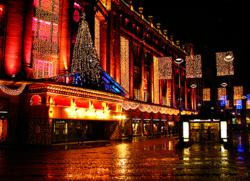 Coming in most expensive on the survey was Strasbourg, the capital of Frances Alsace region. As host to arguably Europe's biggest Christmas Market, Strasbourg's number one placement isn't surprising. There, on average, travellers will have to spend 202 Euros per night for the cheapest available double room in a 3-star hotel. Taking the runner-up spot was Dresden, the capital of German's free state of Saxony. An average rate of 174 Euros nightly landed Dresden solidly in the number two slot.
Proving much more affordable were Nuremberg, home to Germanys most famous Christmas Market, and Lille, popular with UK travellers as it is located only 80 minutes from the London St Pancras area of the city. According to the survey, visitors should be able to find a room in both destinations for less than 100 Euros per night this holiday season.
The following table compares the lodging cost of 10 famous Christmas Markets in Europe. The rates indicated reflect the average daily rate for the cheapest available double room (minimum: 3-star hotels) during the first three December weekends: November 30 to December 2, December 7 – 9 and December 14 – 16. Only such hotels located in or close to the city centre of each respective destination were considered.
Strasbourg – 202 Euros
Dresden – 174 Euros
Bath – 134 Euros
Bruges – 132 Euros
Copenhagen – 126 Euros
Vienna – 95 Euros
Lille – 89 Euros
Nuremberg – 85 Euros
Tallin – 71 Euros
Prague – 68 Euros